Description of machine:
Structure
–Frame
The angle steel and the steel plate are welded and assembled, the overall rigidity is good, and the surface of the worktable is chrome-plated.
–Transmission mechanism
Two sets of completely independent transmission mechanisms, each group consists of two rollers, a first-level V-belt, a first-level worm gear, and a first-level gear drive.
–Forming roll (2 sets)
The elbow making machine has 2 sets of forming rolls, Using GR15 bearing steel, has good wear resistance, high and uniform hardness.
The diameter of the big wheel is 185mm, and the diameter of the  small wheel is 95mm.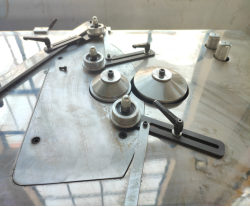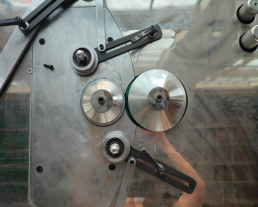 –Foot switch
Control two groups of forming wheels separatly,foot switch is movable and can stop the machine any time by the emergency button.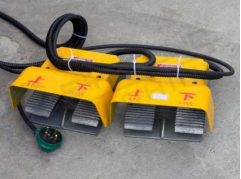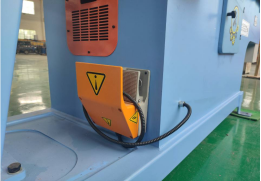 –Arms folded & Brackets(3sets)
The elbow making machine has two arms foled.brackets for both sides.
Bracket with 3 sets,this using A3 iron,the wheels on the carrier are 50mm in diameter.arm and bracket fixed with screws.used to hold round tubes to faciliate the forming of the forming wheel.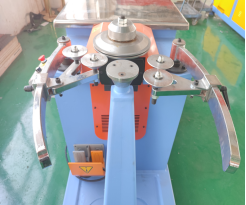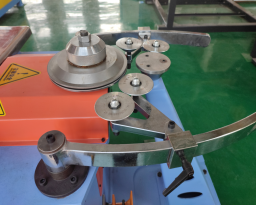 –Electronic box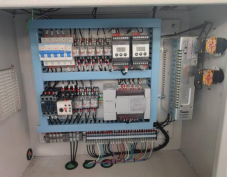 –Accessory box
Additional forming wheel packs in accessory box.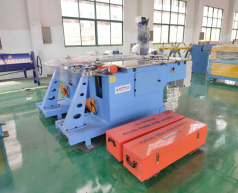 -Switch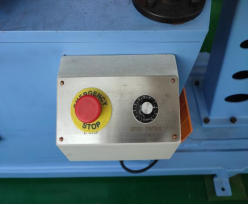 -Hydraulic valve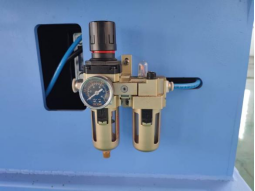 use and operation
–Mainly Specification 
Technical Date
Voltage:380v/50Hz/3Ph or customizable voltage
Hydraulic Oil:55L
Compressed gas consumption:75l/hour 6har
Thickness of strip:
Form speed:7r/min
Type
DCH-1000
DCH-1250
DCH-1500
Max thichness
1.2mm
2.0mm
2.0mm
Diameter range
150-1000mm
150-1000mm
150-1500mm
Motor power
1.5kwx2
2.2kwx2
2.2kwx2
Dimension
2100x820x890mm
2200x820x890mm
2400x820x890mm
Weight
556kg
750kg
910kg
–elbow duct pictures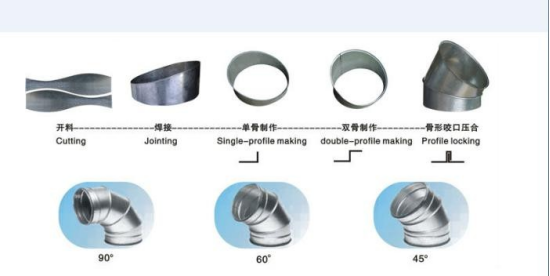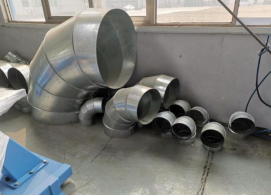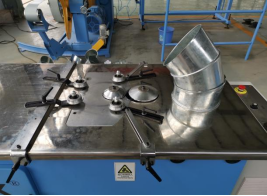 performance characteristics
Equipment of elbow ducts:
BYFO hydraulic elbow machine is a thin -walled tube made of metal band -shaped spiral bite seams. Transfer with bulk materials, replacing traditional white iron pipes ( handmade bite iron pipes). It is a type of air duct. There is no need to knock on the entire mechanism. Wheels, including ventilation, such as fresh air and exhaust, this range is wide. For example, the factory workshop, the air production site air, due to the production of harmful gases, it needs to be discharged outdoors. The outdoor air needs to be transported indoors.
Dualworking
flexibility – eliminates equipment's changing over and reduces tool's changing.
Higherproduction
Flangingspeed Up to 4m per
Higher
Materialthickness: up to 5mm Galvanized steel &1.0mm stainless steel.
Improvedseam's
Optimizedroller's
Virtuallyno
Nolubrication & all rotating parts made of hardened, high grade
Manufactureof segment bends, reducers, end covers and offsets & attachment of cams forMETU
2separate workstations achieve high flexibility: a flanging station and a closing  machine is always ready for operation without time-consuming conversion.
Awada elbow maker is the special equipment for both connecting lock and seaming when processing on metal plate round pipe and round elbow. By adjusting the position of pointer on the hand wheel, two locks