Introduction of Main Configuration
–Composition
This equipment consists of three parts: decoiler, main machine and discharge table.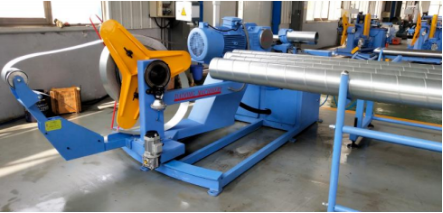 The decoiler is integrated with the main machine and is equipped with a pneumatic brake device and a material belt buffer device. The diameter of the inner roll is 460-520mm, the maximum diameter of the outer roll is 1200mm, and the maximum load is 1100kg. The decoiler is installed on the slide rail and is driven by a small motor at the tail to adjust the feeding angle.
Main machine
Forming roller: roll the steel strip in multiple passes; the feed roller can be adjusted left and right to adjust the size of the left and right flanging of the steel strip.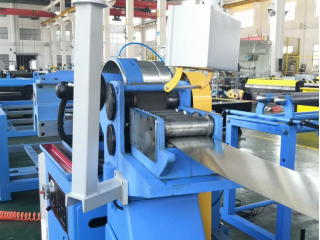 Feeding roller: plays the role of feeding, there is an oil cylinder below to tighten the material belt, and the pressure is adjusted by an electric contact pressure gauge.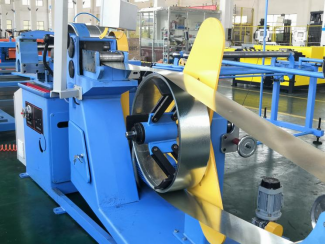 Discharge plate: plays a guiding role, and is equipped with a folding wheel to fold the sub-mother mouth of the material belt.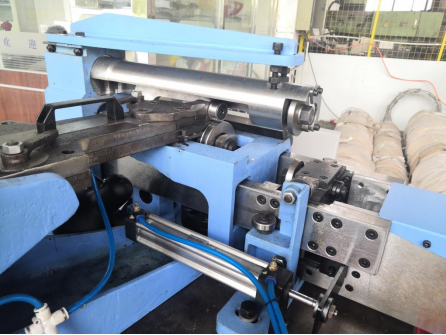 Coil part: forming head mold, closing wheel, etc. The closing wheel can be raised and lowered, and can also be fine-tuned left and right.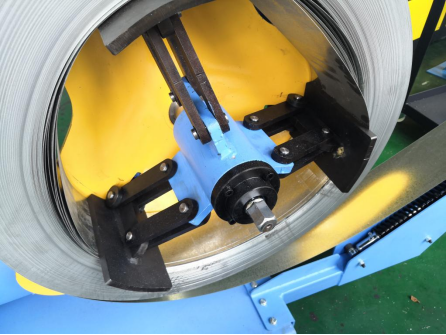 Cutting part: rolling shear or plasma synchronous tracking cutting, stepper motor drives ball screw drive, precise control.
Control part: electrical system, hydraulic system, pneumatic system.
PLC Console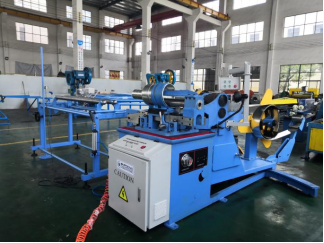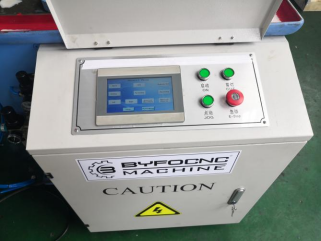 Outlet rack: 2.1 x 1.0 x 1.0 m. The height of this air duct bracket is adjustable, and the pneumatic turning function is suitable for air ducts below 800mm. One bracket can accept pipes 2-4 meters long, and multiple brackets can be selected.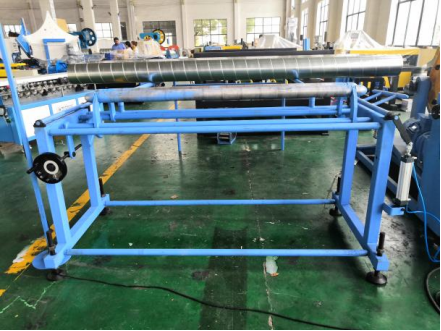 –Technical parameters
| | |
| --- | --- |
| Diameter range | 100-1800mm |
| Thickness range | Galvanized sheet: 0.5-1.2mm, width 137mm |
| | Stainless steel: 0.45-0.8mm, width 137mm |
| Decoiler | inner coil diameter 460-520mm |
| | outer coil maximum diameter 1200mm, maximum load 1100kg |
| Bite seam | Outer bite |
| Production speed | 0-35 m/min, adjustable |
| Cutting method | Rolling shear cutting |
| | Plasma cutting |
| Fixed length cutting | Infrared sensor switch |
| | Computer fixed length |
| Power system | Pneumatic for shearing and turning |
| | Hydraulic for feeding roller clamping |
| Forming head mold | Steel |
| Total weight of equipment | 2000kg |
| Overall dimensions of the equipment | Main unit: 3.4 x 1.7 x 1.7 m |
| | Outlet rack: 2.1 x 1.0 x 1.0 m |
| Total equipment power | 16KW |
| Console | Touchscreen/button |
| Power supply | Can be customized |
 –Basic Accessories
Fixed mold: The material of the fixed mold is A3 iron steel, We will provide 5 pcs fixed molds, all sizes will follow your request, size range: 100-1600mm .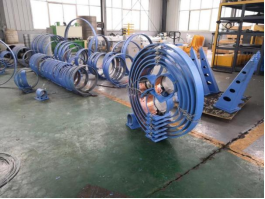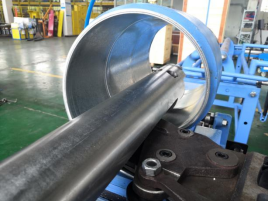 Optional accessories: stiffener. There are two styles of single wave and double wave, which can be installed on the mold. Generally, 250-1000 diameter pipes can be reinforced to increase the strength.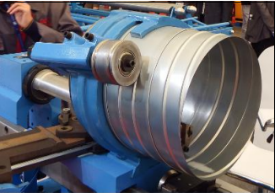 –Two cutting methods
The spiral duct machine adopts a power system combining pneumatic and hydraulic, which is controlled by PLC and is easy to operate. There are two cutting methods: roll shear cutting and plasma cutting.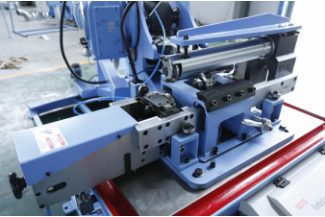 The advantage of roll shear cutting is that the incision is smooth and the cutting is pollution-free. The disadvantage is that the cutting angle needs to be readjusted when changing the mold, and the blade gap is adjusted according to the thickness of the plate.
 Another option: The advantage of plasma cutting is that it is suitable for any pipe diameter and thickness, but the disadvantage is that there is a lot of smoke and dust when cutting
 –Spiral duct machine configuration list
| | | |
| --- | --- | --- |
| | Configuration 1 | Configuration 2 |
| Motor reducer | Guomao or Zhongyan | |
| Inverter | SAICER | ABB |
| PLC | Xinjie | Siemens |
| Electrical components | Chint | Schneider |
| Touch screen | WeiKong | Siemens |
| Hydraulic valve | Ward | |
| Pneumatic Components | Made in China | |
| Linear Guides | TBI | |
| Plasma Power | Jasic | |